Press Release
2.5 Million doses of polio vaccines deployed to stamp out polio in Sabah
28 February 2020
 Joint statement by the Ministry of Health Malaysia, WHO and UNICEF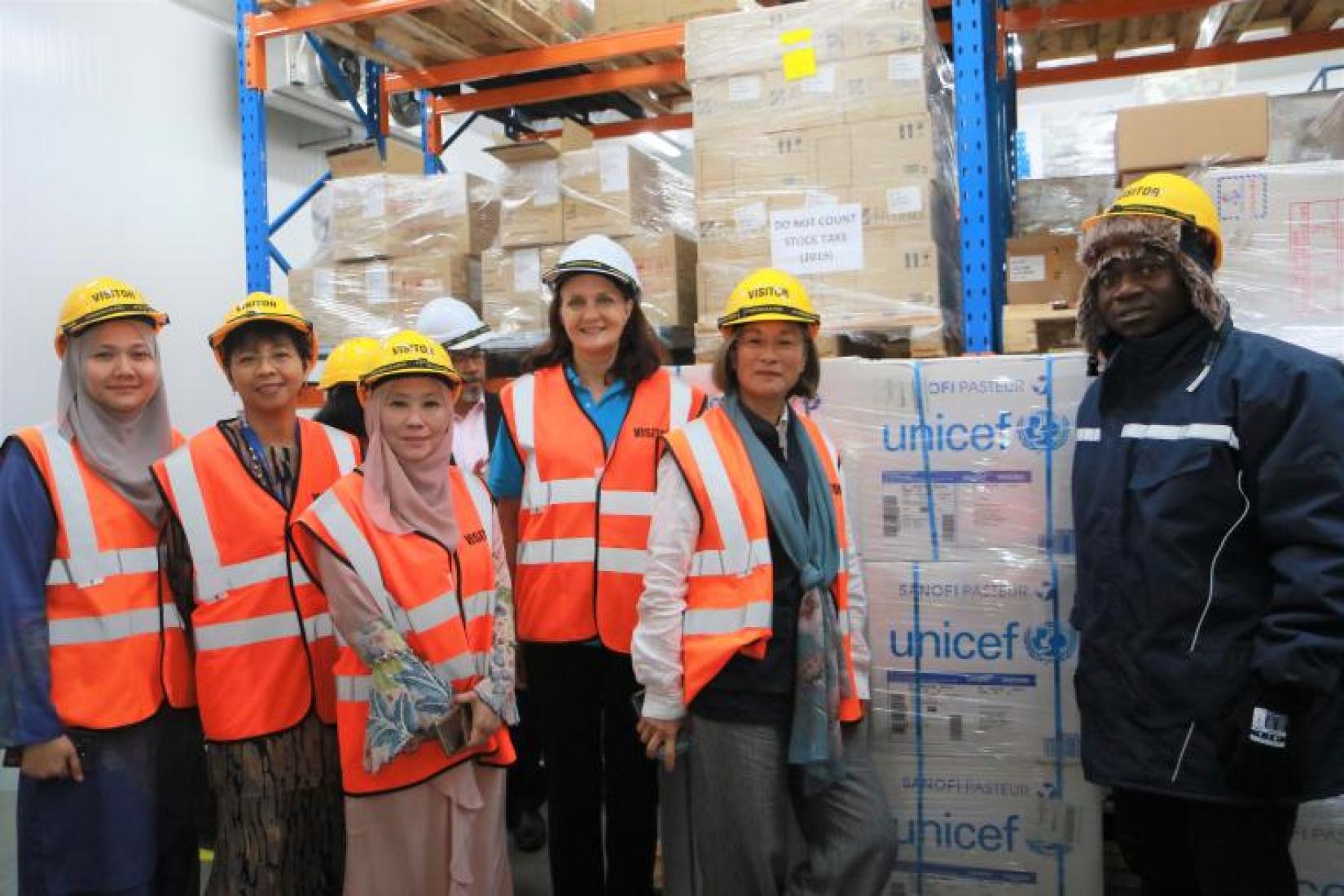 On the 27th of February, the Ministry of Health of Malaysia received 2.5 million doses of monovalent oral polio vaccine type 2 (mOPV2) from the World Health Organization (WHO) and managed by the United Nations Children's Emergency Fund (UNICEF) to be delivered to over 1 million children below 13 years old in Sabah to control the spread of polio.
To date, Malaysia reported three (3) Acute Flaccid Paralysis (AFP) cases involving a three (3) month old child in Tuaran district, an eight (8) year old child in Sandakan district, and a eleven (11) year old child in Kinabatangan district. A healthy child in Semporna district was also found positive with the virus through targeted healthy children sampling, meanwhile five (5) environmental samples have tested positive of the virus in Semporna and Kota Kinabalu.
As an added precaution, the Government of Malaysia has released additional allocation to conduct the immunization campaign bivalent oral polio vaccine (bOPV) to children across Sabah since 27 December 2019.
The Sabah State Health Department received the support from Sabah State and state government agencies as well as non-governmental organisations and volunteer groups such as the Malaysian Red Crescent, Tzu Chi, Persatuan Pesara Jururawat, Majlis Pengurusan Komuniti Kampung (MPKK), Ahli Kumpulan Sokongan Penyusuan Susu Ibu (AKSI), COMBI, Sukarelawan Pekerja Kesihatan Awam (SPKA), teachers, Clinical Advisory Panel, medical students from University Malaysia Sabah (UMS), and students from the Health Ministry's Training Institute (ILKKM) at Kota Kinabalu, Sandakan and Tawau. The vaccination campaigns were conducted by mobile teams and also at government clinics, community halls, business centres, religious sites, and more.
The Ministry of Health Malaysia will continue collaborating with WHO and UNICEF in controlling the polio outbreak response in Sabah state until the outbreak is declared over. The mOPV2 vaccine provided by UNICEF will be used alongside bOPV provided by the Government of Malaysia to ensure complete protection from the virus. Both these vaccines (mOPV and bOPV) will provide immunization to children as well as stop the spread of the polio virus to other children.
All children under 13 years of age, even those who have received inactivated polio vaccine (IPV) according to the national immunization schedule, will be vaccinated with both oral polio vaccine (OPV). The success of this campaign depends on the immunization coverage of at least 95% on all children under the age of 13 receiving OPV.
The Ministry of Health Malaysia would like to inform that it is safe and necessary for children to receive multiple types and doses of OPV for optimal outcomes. Therefore, the Ministry of Health Malaysia urges parents, guardians as well as childcare centres, kindergartens and school authorities to ensure that children receive OPV during the vaccination campaigns.
End Polio Infections, Restore Polio Free Status in Malaysia
Thank you.
DATUK DR. NOOR HISHAM BIN ABDULLAH
DIRECTOR GENERAL, MINISTRY OF HEALTH, MALAYSIA
28 FEBRUARY 2020
UN entities involved in this initiative
UNICEF
United Nations Children's Fund
WHO
World Health Organization