Story
Five schools received air quality monitoring devices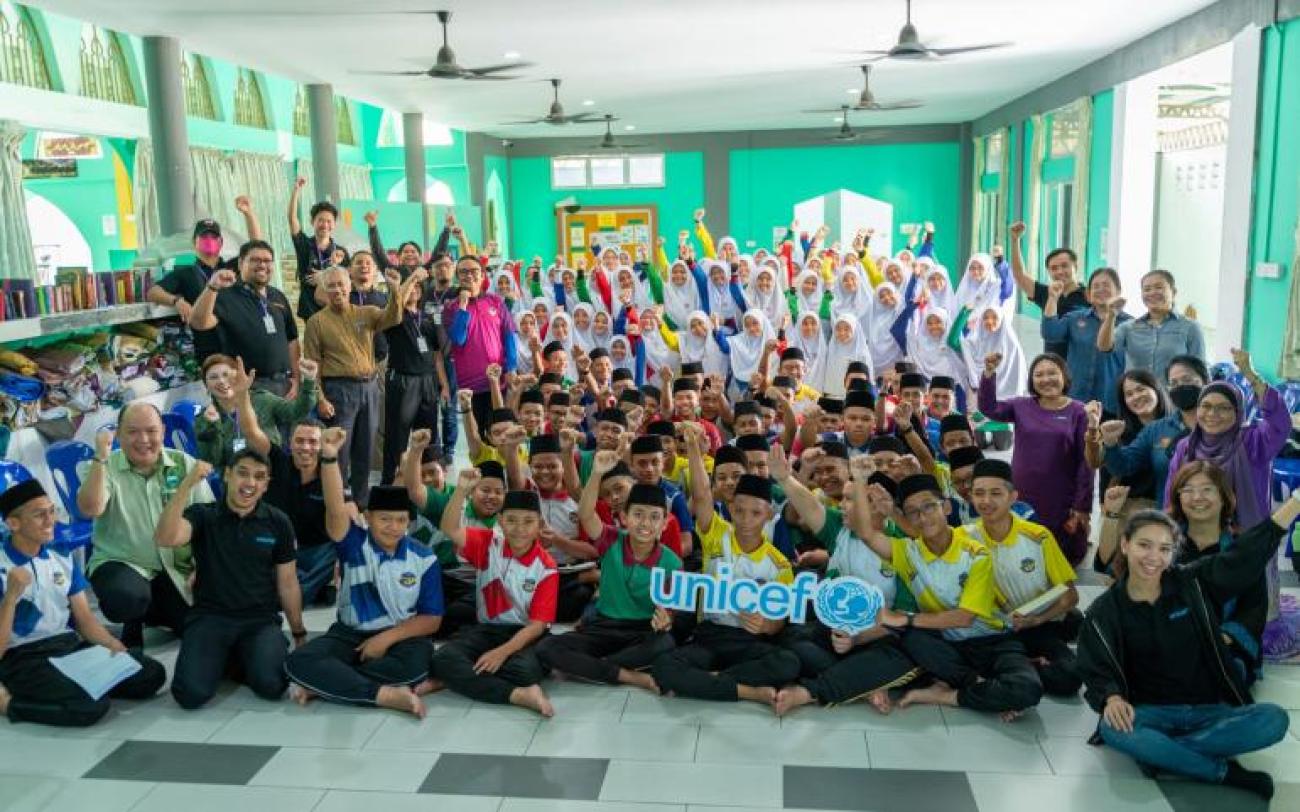 Joint press statement by Environment Protection Department Sabah and UNICEF Malaysia
Five pilot schools involved in the "Air Quality Monitoring in Schools (AQUAMS Project)" that was launched by the Environment Protection Department Sabah and UNICEF on 30 September 2022 have received their air quality monitoring devices. The devices will be collecting air quality data for monitoring and evidence generation.
The five pilot schools are SM St. Michael, Penampang; SMK Agama Tun Ahmad Shah, Kota Kinabalu; SJK(C) Chung Hwa, Tamparuli; SK Buang Sayang, Papar; and Sekolah Indonesia Kota Kinabalu.
Vitalis J. Moduying, Director of the Environment Protection Department Sabah shared that the project to establish a community for citizen science as part of a collaborative, comprehensive and transparent air quality monitoring network that consists of selected schools in Sabah for effective and efficient measures against air pollution.
"This programme aims at raising the awareness of air pollution issues as well as various environmental issues in Sabah including waste management, water pollution, amongst others," he added.
Through the approach of this project, students, teachers and communities will be able to participate directly as "researchers" and participate in the citizen science project through the collection of air quality data in their area.
The implementation of this project is timely as children are more vulnerable to these environmental concerns, and may be subjected to health problems such as asthma and other viral respiratory infections. There is a crucial need to increase the awareness of issues relating to air pollution amongst the community, parents, schools and the children themselves.
"Children are uniquely vulnerable to air pollution, due to their physiology and degree of their exposure. In the long run, the effects of air pollution on a child can have livelong health implications. We must ensure that every child have the fundamental rights to breathe clean air and live in a sustainable environment," said Issmail Nnafie, Innovation and Sustainability Specialist of UNICEF Malaysia.
This project is in line with the Sabah State Policy on the Environment which states that a state-wide climate and air quality monitoring programme should be implemented, to safeguard the air quality from deteriorating due to activities within the state," explained Vitalis Moduying.
On 7th February 2023, an experiential learning activity to introduce the project to students and teachers was carried out at SMK Agama Tun Ahmadshah, Kota Kinabalu. The experiential learning sesions will continue in the other four schools in March and April 2023.
UNICEF is providing financial and technical assistance in the AQUAMS project, and various governmental agencies and non-governmental agencies, including local technical expert Kinabalu Coders and Siung Films, are also involved.
For more information, please contact:
Rachel Choong, UNICEF Malaysia, +6012 2932690, rchoong@unicef.org
UN entities involved in this initiative
UNICEF
United Nations Children's Fund