Story
Join us! : World Press Freedom Day Virtual Forum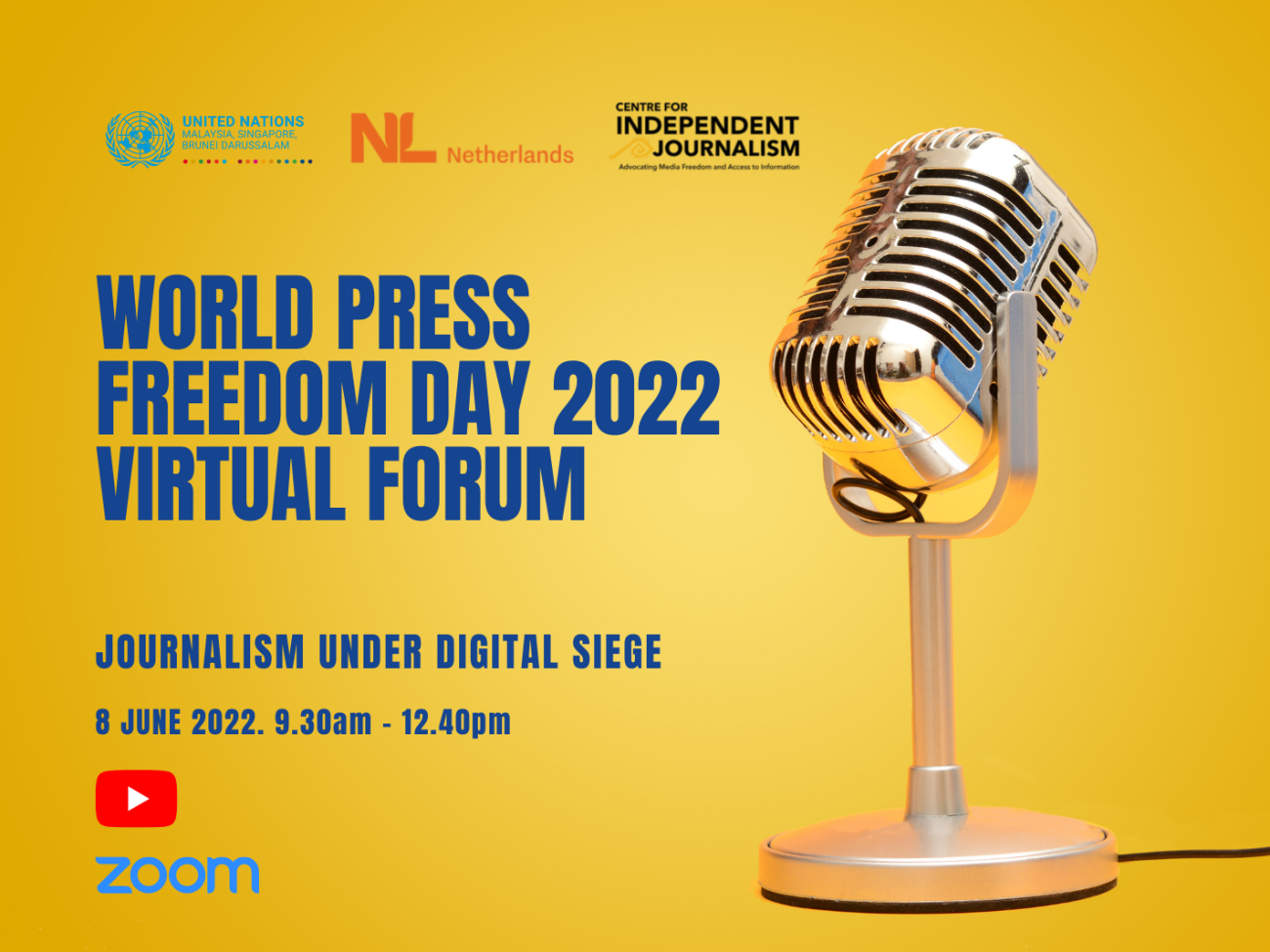 Join us via Zoom or YouTube live: Visit our events page here for the participation links and to download the programme
Background
May 3 is celebrated worldwide as the World Press Freedom Day. The commemoration serves as a reminder to governments of the need to respect their commitment to press freedom. This is also a day for reflection among media professionals about issues of press freedom and professional ethics.
The Universal Declaration of Human Rights proclaims the right of everyone "to freedom of opinion and expression" and clarifies that this right includes freedom to hold opinions without interference and to seek, receive and impart information and ideas through media and regardless of frontiers.
The Federal Constitution of Malaysia guarantees every citizen's right to freedom of speech and expression. The right to information is not explicitly mentioned, but this can be considered an integral part of freedom of speech. Without access to information, citizens would not be able to exercise their right to free speech and expression effectively.   
UNESCO has proposed "Journalism under Digital Siege" as the theme for 2022.  The focus will be on the digital era's impact on freedom of expression, the safety of journalists and access to information.
The digital transformation has had multifaceted impact on journalism, from facilitating mass and targeted surveillance of journalists to jeopardizing the economic viability of news media to reshaping the relationship with audience. It has challenged the media to reinvent its operations and to contend with the decrease in public trust. The World Press Freedom Day 2022 Forum in Malaysia will provide an opportunity to discuss these complex challenges and to also highlight the ways in which the media have adapted to the new reality.
The Forum will also enable to put into action the commitments made by all 193 UNESCO Member States through the Windhoek +30 Declaration, which recognizes free, independent, professional and pluralistic media as the prerequisite to guaranteeing information as a public good for the whole of humanity. The Declaration also addresses the pressing issues regarding media viability, transparency of digital platforms, and media and information literacy.
Forum
The Embassy of the Kingdom of Netherlands, the United Nations in Malaysia (through the Peace Results Group) and the Centre for Independent Journalism will co-organize a forum to commemorate World Press Freedom Day 2022 to discuss "journalism under digital siege", bringing together civil society, media sector and international partners.
Objectives of Forum
Encourage the government to guarantee freedom of expression and access to information as mentioned in the Universal Declaration of Human Rights and the UN Covenant on Civil Liberties.
Work towards achieving SDG16 Peace, Justice and Strong Institutions specifically on goal 16.10 which is to ensure public access to information and protect fundamental freedoms.
Raise awareness regarding the importance of freedom of the media and the right to information especially in digital media as well as combating fake news.
UN entities involved in this initiative
RCO
United Nations Resident Coordinator Office