Story
Following a successful mass vaccination campaign, the polio outbreak ends in Malaysia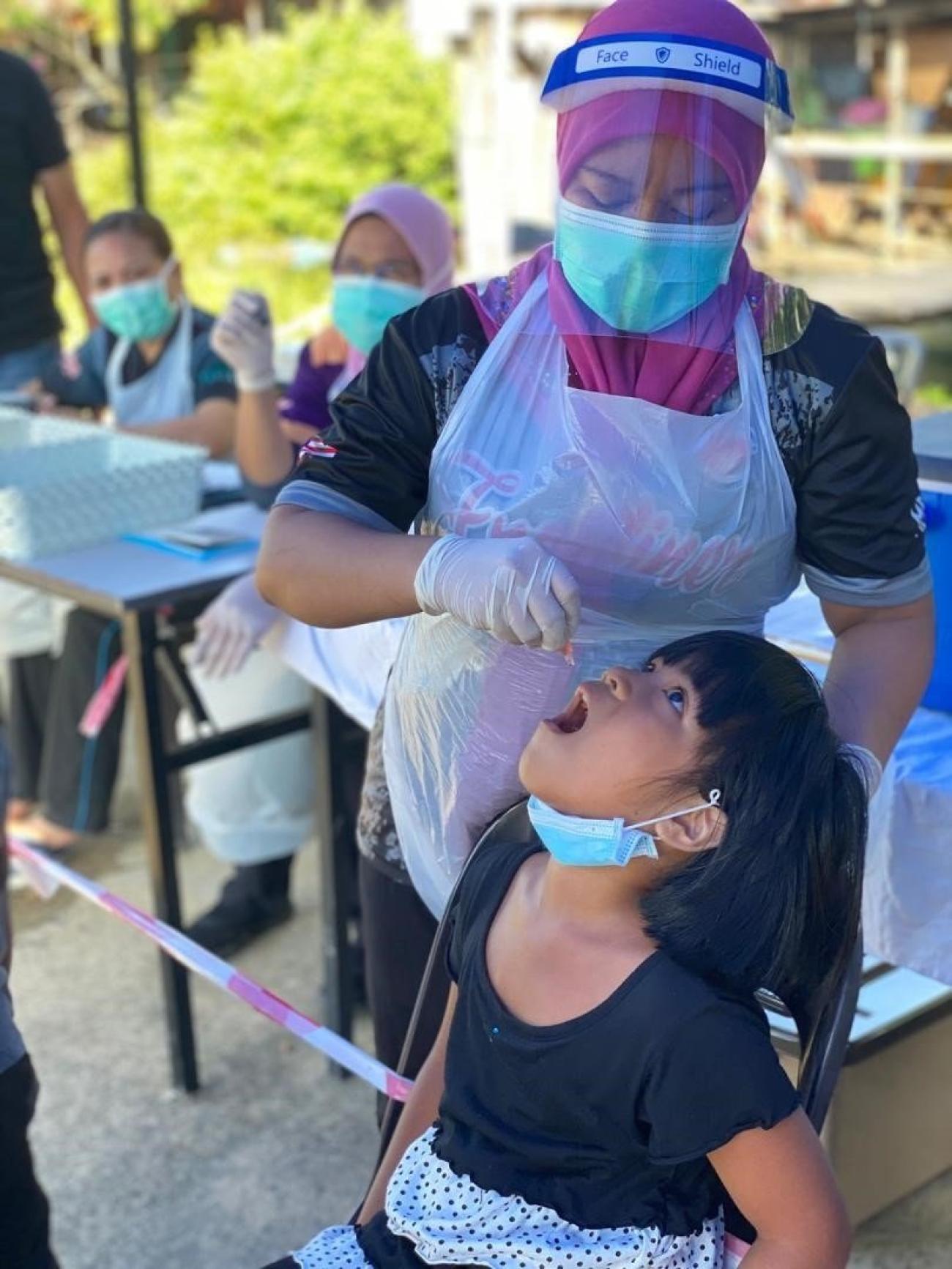 n December of 2019, polio was detected in Malaysia for the first time in 27 years.
Today, over a year and a half later and after the implementation of a successful public health response and polio vaccination campaign, the Government of Malaysia has declared the polio outbreak in the country to be over.
This decision was made following the twenty-ninth meeting of the Polio International Health Regulations (IHR) Emergency Committee, which was held on the 4 August 2021. The Emergency Committee deemed that Malaysia is no longer subject to the temporary recommendations for a circulating vaccine derived polioviruses infected country, but it remains vulnerable to reinfection by wild poliovirus or circulating vaccine-derived polioviruses.
After the confirmation of vaccine derived poliovirus type-1 (cVDPV1) cases in the State of Sabah and the Federal Territory of Labuan, and subsequent identification of vaccine derived poliovirus type 2 (cVDPV2) in State of Sabah, the Ministry of Health launched a mass immunization campaign in order to respond to the outbreak. All children under 13 years of age, even those who had received inactivated polio vaccine (IPV) according to the national immunization schedule, were also vaccinated with oral polio vaccine (OPV).
"Pockets of unvaccinated children have led to the occurrence of the polio outbreak. Hence, it is of utmost importance that high vaccination coverages are achieved in all areas. The success of the polio outbreak response was contributed by multiagency collaboration. Government and private agencies, NGOs, community leaders and volunteers worked hand in hand with our health workers to ensure we could stop the poliovirus spread as fast as possible, despite having to tackle the COVID-19 pandemic", said Malaysian Health Minister, Khairy Jamaluddin.
The Ministry of Health of Malaysia received 2.5 million doses of monovalent oral polio vaccine type 2 (mOPV2) from WHO and managed by UNICEF to be delivered to over 1 million children in order to control the further spread of polio. Bivalent oral polio vaccine types 1 and 3 (bOPV) was also procured by the country. The immunization campaign was implemented by the Sabah State Health Department and the Federal Territory of Labuan Health Department with support from state government agencies, health workers, non-governmental organizations and community volunteer groups.
"We congratulate the Ministry of Health and partners on the successful polio outbreak response, in particular in the context of the COVID-19 pandemic. The Ministry of Health, WHO and response partners mounted a rapid response to the outbreak.  WHO immediately deployed polio experts to Malaysia to assist and provide technical guidance, supplies and bringing together partners from the Global Polio Eradication Initiative (GPEI), including UNICEF to ensure equitable access to quality vaccines. We look forward to continuing our work with the health authorities, supporting routine immunization, strengthening acute flaccid paralysis and environmental surveillance", said Dr Lo Ying-Ru Jacqueline, WHO Representative to Malaysia, Brunei Darussalam and Singapore.
Vaccinations were carried out in government clinics, community halls, business centres, religious sites, as well as by mobile teams who worked to ensure vaccines reached everyone, including marginalized and vulnerable groups living in remotest parts of the country. Apart from providing equitable access to vaccines, the health authorities worked together with WHO and UNICEF to simultaneously address social and cultural concerns to increase vaccine acceptance and tackle vaccine hesitancy among marginalized and vulnerable groups by engaging with communities and local leaders.
"Today, we can congratulate all partners that this polio outbreak is over. However, Malaysia, must remain vigilant to ensure that all children living in Malaysia, regardless of their status, receive polio vaccine – and other vaccines - every time it is required. Any lapse in routine immunization or vaccination campaign coverage could again leave children vulnerable to this terrible disease", said Dr Rashed Mustafa Sawar, UNICEF Representative to Malaysia.
_____________________________________________________________
For more information on polio, please visit: https://www.who.int/news-room/q-a-detail/questions-and-answers-on-polio-in-malaysia
About WHO
The World Health Organization provides global leadership in public health within the United Nations system. Founded in 1948, WHO works with 194 Member States, across six regions and from more than 150 offices, to promote health, keep the world safe and serve the vulnerable. Our goal for 2019-2023 is to ensure that a billion more people have universal health coverage, to protect a billion more people from health emergencies, and provide a further billion people with better health and wellbeing. #HealthforAll
For more information about WHO and its work in Malaysia, please visit: www.who.int/malaysia    
About UNICEF
UNICEF promotes the rights and wellbeing of every child, in everything we do. Together with our partners, we work in 190 countries and territories to translate that commitment into practical action, focusing special effort on reaching the most vulnerable and excluded children, to the benefit of all children, everywhere.
For more information about UNICEF and its work in Malaysia, please visit: https://www.unicef.org/malaysia
UN entities involved in this initiative
UNICEF
United Nations Children's Fund
WHO
World Health Organization