Story
Media and Migration: Youth Voices Unite In Solidarity Against Xenophobia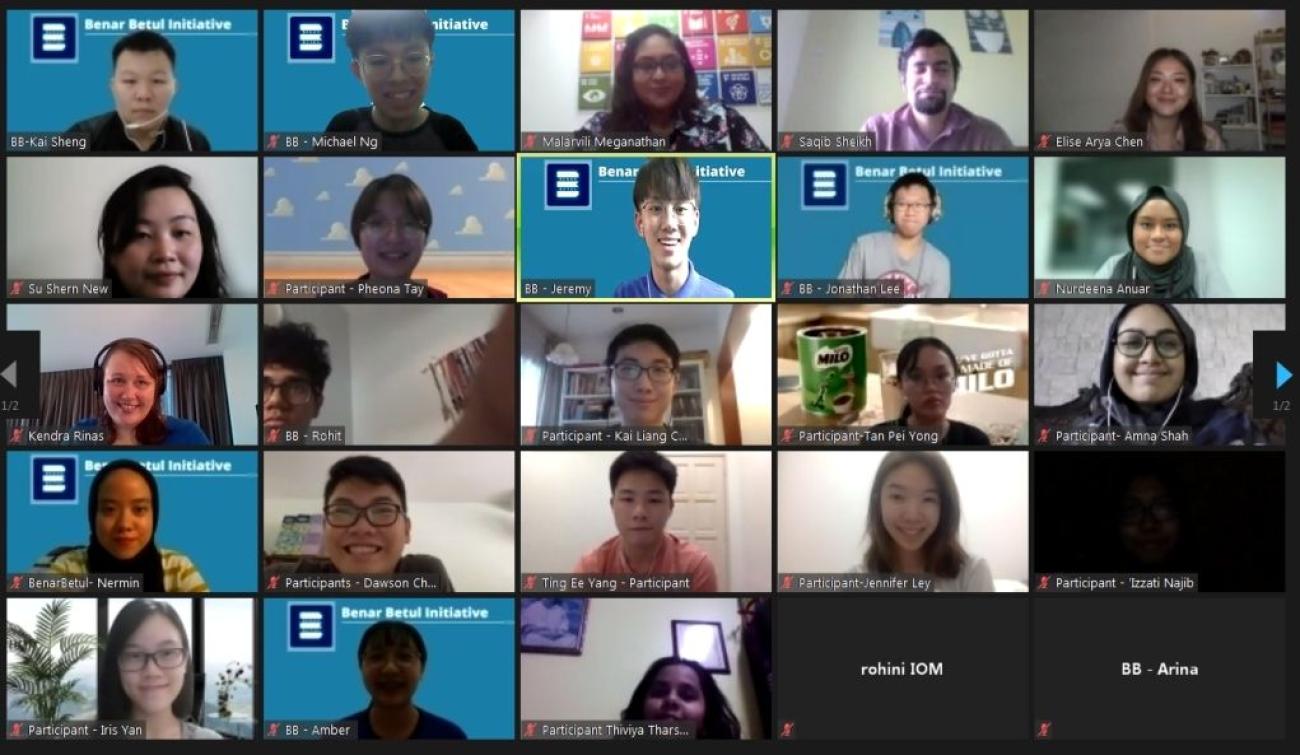 IOM and Benar Betul conducted a virtual training on Media and Migration: Youth Voices Against Xenophobia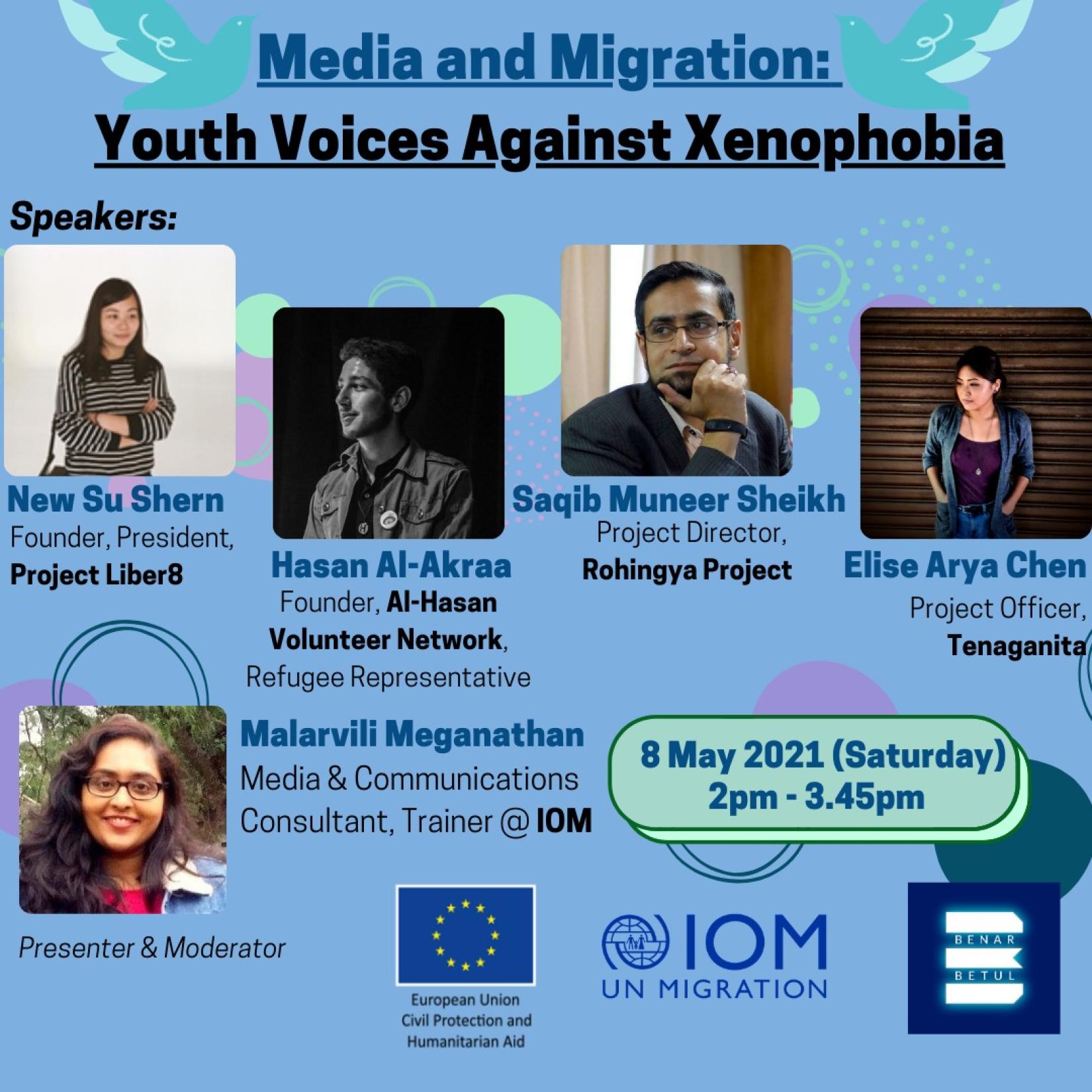 Kuala Lumpur - Professor Roderick McGrew based on his extensive research on cholera once said, "Epidemics do not create abnormal situations, but rather sharpen existing behavior which betray deeply rooted and continuing social imbalances."
Since the outbreak of the pandemic, a surge of xenophobic incidents, hate-speech, and violent physical attacks have been reported. Such incidents of stigmatisation and discrimination often happen against the backdrop of broader systemic inequalities that have serious implications on public health measures. Migrants and refugees are among those who have falsely been blamed and vilified for spreading the virus.
Online petitions and social media posts have been maliciously circulated, attracting derogatory comments and threats towards migrants and refugees. In Malaysia, a Reuters report found that dozens of pages and groups on Facebook featured discriminatory language about undocumented migrants and refugees. Most comments encouraged violence.
In an effort to tackle this pressing issue, the International Organization for Migration (IOM) conducted a virtual training on Media and Migration: Youth Voices Against Xenophobia in partnership with Benar Betul, an independent youth group that aims to promote media literacy among Malaysians.
Benar Betul executive, Jeremy Lau, in his opening remarks highlighted the importance of empowering youth with digital media literacy skills especially on issues pertaining to migrants and refugees.
"This training is a great initiative to address misinformation and xenophobia targeted towards marginalised communities in the country. The time is now to take a step closer and stand forward for a better future for all of us," he said.
40 social media practitioners, influencers, young professionals, youth leaders and university students participated in the media training workshop on 8th May, funded by the European Union Civil Protection and Humanitarian Aid (ECHO).
The training provided a broad overview of global migration and development, before zeroing in on the critical role of media in influencing public perception, the usage of accurate key terminologies in migration reporting and the importance of stigma-free language in COVID-19 related recovery efforts. Participants were also briefed on the impacts of misinformation and how to effectively address rumours on social media and other digital platforms.
The first session, 'Media, Migration and Public Perception,' outlined the importance of shaping the narrative on public discourse on migrants and highlighted pertinent issues such as forced labour, human rights violations, debt bondage and human trafficking.
The session on 'Stories from the Ground: Addressing Xenophobia Towards Migrants and Refugees'  featured four esteemed panellists, New Su Shern, Founder and Executive Director at Project Liber8, a non-profit organization that aims to shift attitudes towards the issue of human trafficking and exploitation, Elise Arya Chen, Project Officer at Tenaganita, a women and migrants' rights advocacy group, Hasan Al-Akraa, a Syrian refugee based in Malaysia, Co-Founder of Al-Hasan Volunteer Network, and Saqib Muneer Sheikh, lecturer at the Center for American Education, Sunway University, Project Director of the Rohingya Project, a grassroots initiative for financial and social inclusion of refugees.
The panellists shared their experiences working with marginalised communities on the ground, ways to create inclusive media content and challenges faced by migrant and refugee rights activists on social media platforms.
"I have the privilege of walking away, but they don't. With great privilege comes great responsibility. That's how I stay grounded," said Saqib Muneer Sheikh.
Echoing his sentiment, Su Shern added, "At times, it's easy to be discouraged by negative comments online. But I choose to focus on what's ahead and stand up against hate."
Kendra Rinas, Chief of Mission of IOM Malaysia, in her closing remarks said the training provided an excellent platform for young changemakers to share inspiring ideas and understand the challenges faced by marginalised communities in the country.
"Understanding is the first step towards change. We hope our young leaders today will speak up against injustices with courage and compassion. Together, we can create an inclusive post-COVID recovery that addresses the needs of all populations, including migrants and refugees," she added.
The one-day training ended with valuable input and recommendations for future collaboration from participants.
For more information, please contact Malarvili Meganathan and Wong Chun Ting at cwong@iom.int
UN entities involved in this initiative
IOM
International Organization for Migration