Story
Shifting Narratives: The Role of Media in Addressing Pandemic Related Stigma and Xenophobia in Malaysia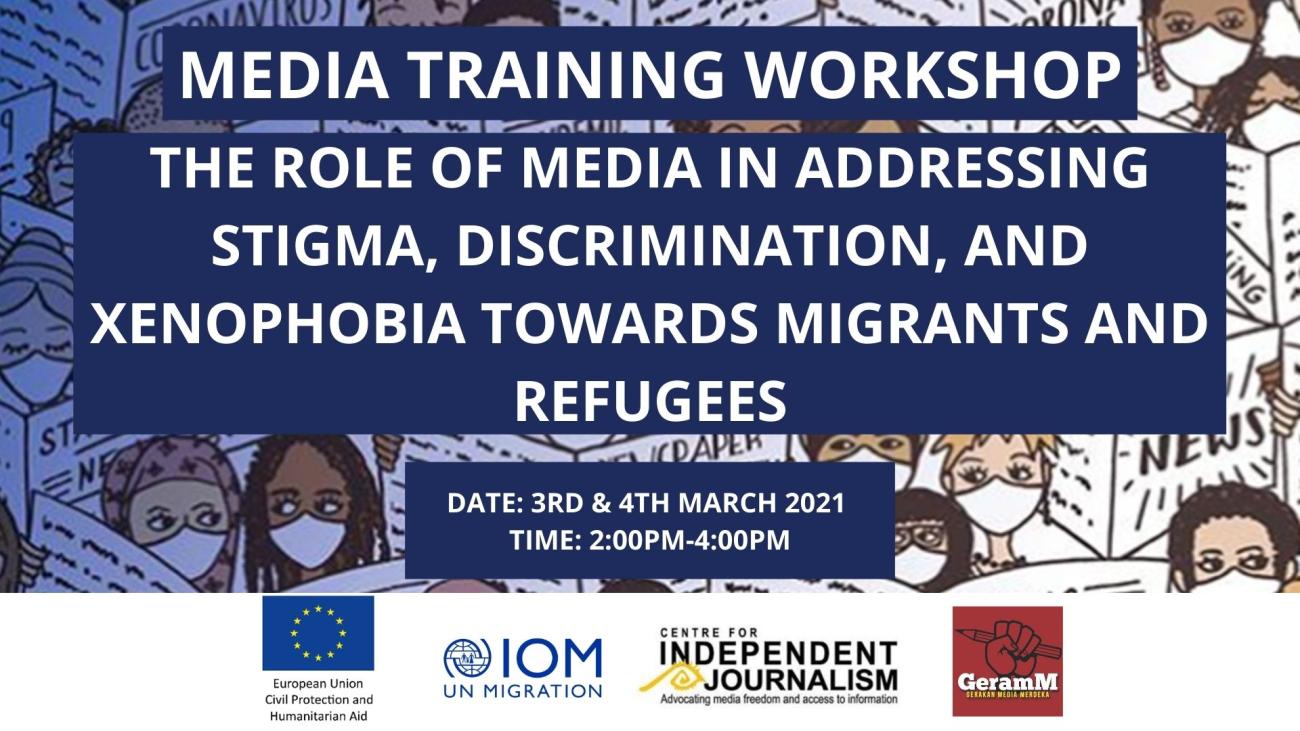 IOM conducted a 2-day (3-4 March) media training workshop on 'The Role of Media in Addressing Stigma, Discrimination & Xenophobia Towards Migrants & Refugees
Kuala Lumpur - The International Organization for Migration (IOM) conducted a two-day (3-4 March) media training workshop on 'The Role of Media in Addressing Stigma, Discrimination and Xenophobia Towards Migrants and Refugees' in partnership with the Centre for Independent Journalism (CIJ) and Gerakan Media Merdeka (GeramM).
38 media practitioners including journalists, producers, editors, communication professionals and social media managers participated in the virtual media training funded by the European Union Civil Protection and Humanitarian Aid (ECHO).
The training provided key recommendations for media practitioners to consider namely stigma-free language, inclusive reporting, and ways to amplify community voices through direct engagement. Participants were also briefed on the impacts of misinformation and how to effectively address rumours on social media and other digital platforms.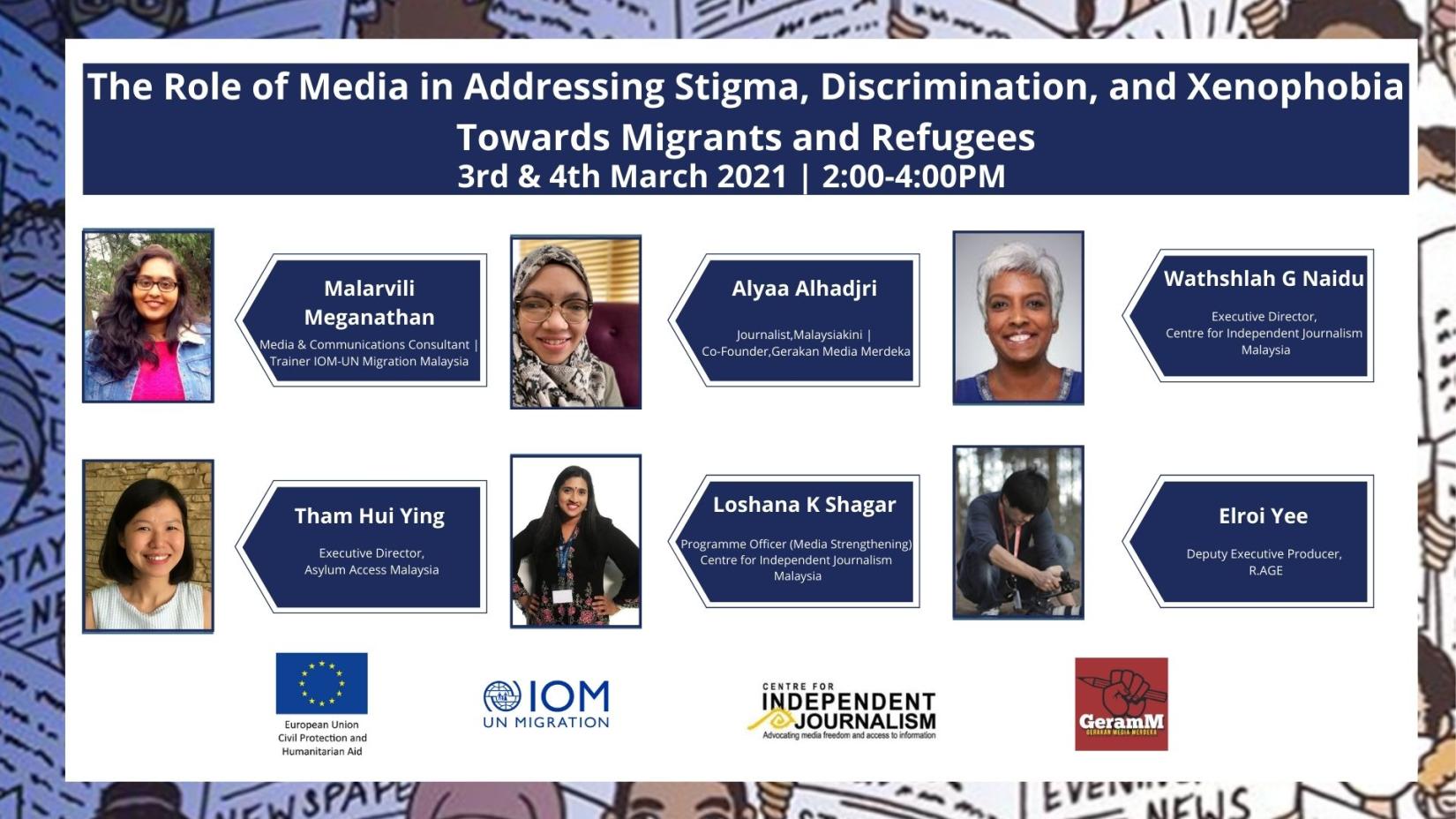 Malarvili Meganathan, Media and Communications Consultant, IOM Malaysia, in her presentation 'Media, Migration and Public Perception,' provided an overview on public perception of migrants in the region, challenges faced by migrants in Malaysia such as forced labour, human rights violations, debt bondage and human trafficking.
Public perception of migrants and refugees in Malaysia has dwindled in recent years. In 2019, the International Labour Organization's (ILO) Asia-Pacific regional office carried out a survey on public attitudes towards migrants in collaboration with the UN Women. The study revealed that Malaysians have false perceptions of migrants and low support for their rights.
The denigration of marginalised and vulnerable populations amid escalating pandemic woes is a critical concern. According to a recent report by Human Rights Watch, Malaysia's efforts to contain the spread of Covid-19, while generally successful, had a disproportionate impact on migrants and refugees in the country. Instances of stigmatisation have taken the form of verbal or physical assault and social or institutional exclusion from the receiving society.
Addressing the participants in her opening remarks, Kendra Rinas, IOM Chief of Mission in Malaysia said, "Media is extremely essential at framing the narrative and response on COVID-19, migrants and refugees. You have a very powerful voice, and we hope you use it to address and prevent stigma, speak out against violence and help us all recover better together."
Participants were also given a platform to actively engage in meaningful discussions based on case study analyses in a breakout session.  Each group was given a news report from different publications and they were required to address some fundamental questions including, the narrative of the report, challenges faced by journalist in covering migration issues and the future of migration reporting.
"Moving forward, we are very keen in supporting participants who are interested in the formation of a cross-border collaboration with regional and international partners. Together, we can focus on developing additional tools, resources and multi-generational digital content on various platforms," said Wathshlah G.Naidu, Executive Director, CIJ.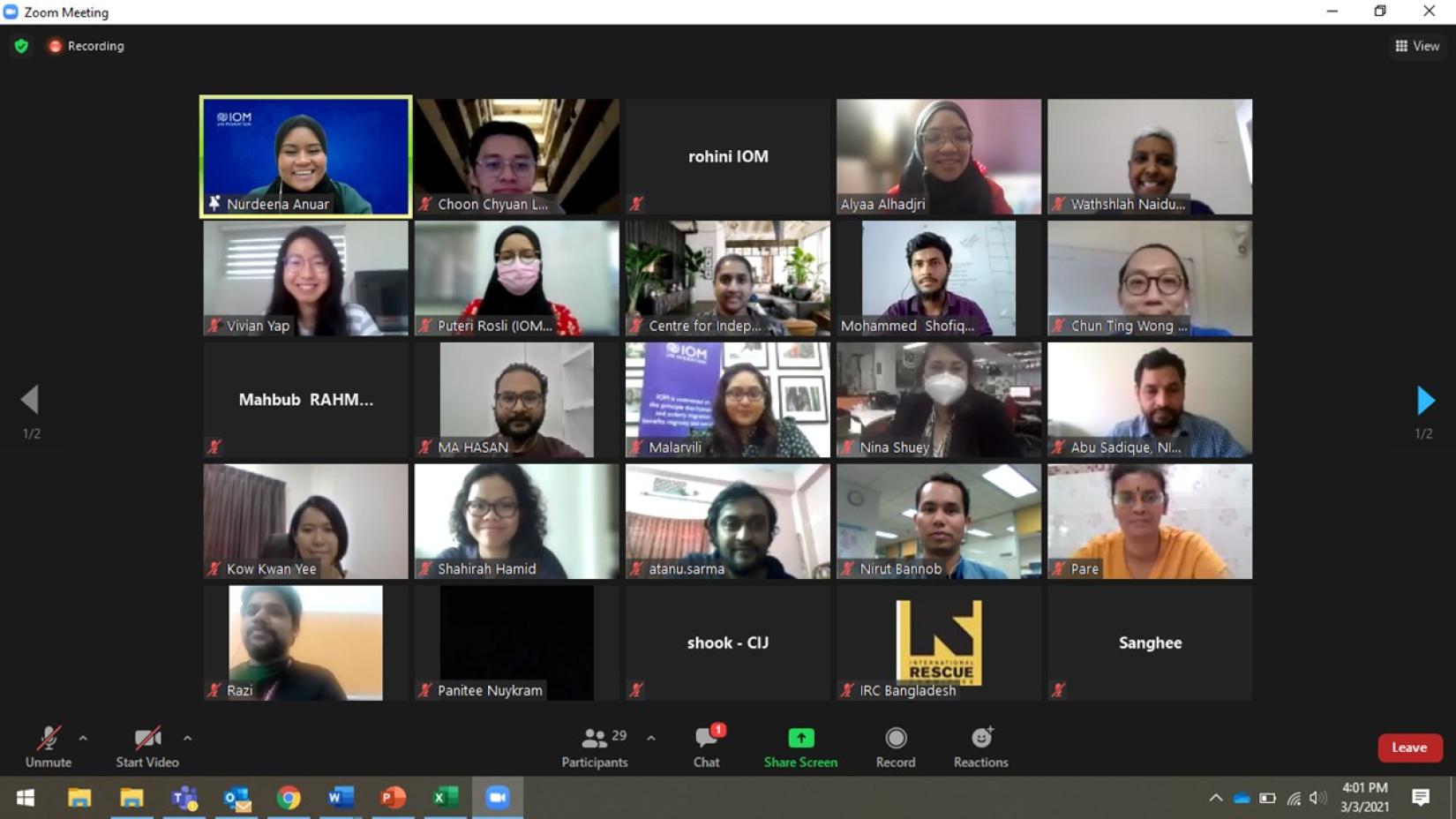 The final session, Covid-19: Stigma, Solidarity and Social Cohesion featured three esteemed panellists, Loshana K Shagar, Programme Officer (Media Strengthening) at CIJ, Elroi Yee, Deputy Executive Producer at R.AGE, a multimedia investigative journalism team based in Malaysia and Tham Hui Ying, Director of Asylum Access, a Malaysian refugee rights organisation.
The panellists shared their perspectives on ways to promote a more balanced, inclusive news coverage, improve media standards and ethics as well as contribute to the credibility of news media organisations by upholding international standards.
The two-day training session ended on a high note with valuable input from participants and multiple recommendations from stakeholders including civil society members and media practitioners.
For more information, please contact Malarvili Meganathan and Wong Chun Ting at cwong@iom.int
UN entities involved in this initiative
IOM
International Organization for Migration