Regional Media Training aims to dispel disinformation about Migrants and Refugees
The COVID-19 pandemic has exposed pre-existing socio-economic inequalities, which put migrants and refugees at a greater risk of xenophobia and discrimination.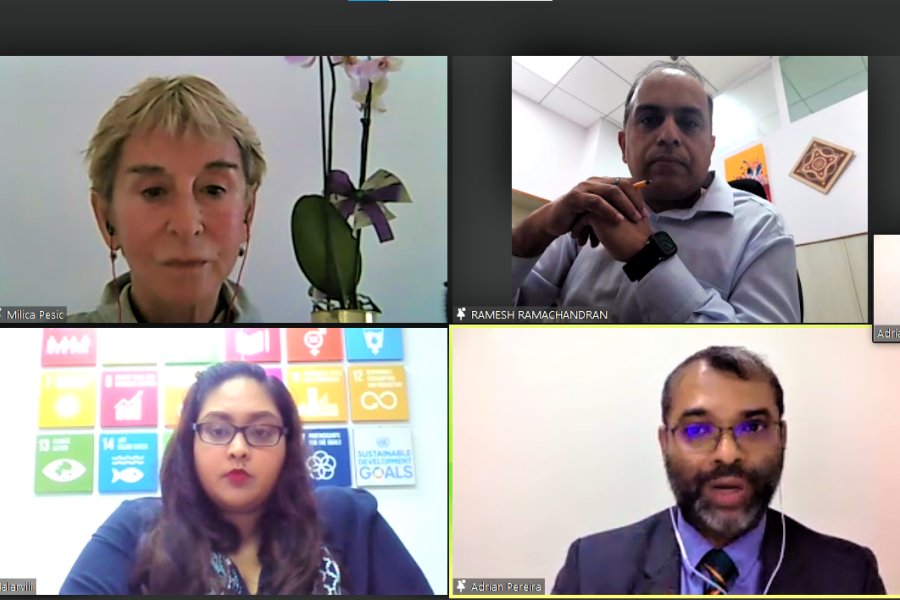 Against this backdrop, the proliferation of false information has fuelled a public outrage targeted towards marginalised communities.
In an effort to counter the surge of 'infodemic,' the International Organization for Migration (IOM) conducted a three-day (9, 16 & 23 March) regional webinar series on 'Media Matters: Dispelling Disinformation About Migrants and Refugees' in partnership with the Asia-Pacific Institute for Broadcasting Development (AIBD) and the World Health Organization (WHO).
55 media practitioners including journalists, producers, editors, communication professionals and social media managers from 16 countries participated in the virtual training session funded by the European Union Civil Protection and Humanitarian Aid (ECHO).
The training featured informative sessions including Shifting the Narrative: Migration and Public Perception by Malarvili Meganathan, Media and Communications trainer, IOM Malaysia followed by The Role of Community Engagement in Reaching Out to Migrants & Refugees by Faizza Tanggol, Risk Communication and Community Engagement Consultant at WHO and Strategies in Combating Disinformation by Adrian Pereira, Executive Director of North South Initiative, a local civil-society organisation focused on advancing human rights and social justice.
The training provided an overview of global migration and development, critical role of media in influencing public perception, the usage of accurate key terminologies in migration reporting and the importance of addressing disinformation on various media platforms.
According to the United Nations Educational, Scientific and Cultural Organization (UNESCO), disinformation is generally used to refer to deliberate (often orchestrated) attempts to confuse or manipulate people through delivering dishonest information to them. Disinformation is particularly dangerous because it is frequently organised, well resourced, and reinforced by automated technology.
In the wake of the pandemic, Reuters reported an alarming increase in xenophobia and hate speech. Hate speech circulated widely, including on Facebook – a platform used by nearly 70% of Malaysia's 32 million people. The international news organization found more than three dozen pages and groups on Facebook that featured discriminatory rhetoric about migrants and refugees in the country. Numerous comments on these pages encouraged violence.
"Disinformation is a major public health concern and can undermine our efforts to contain the virus and ultimately cost lives. This is why it is important to provide facts and balanced information to counteract false narratives," said Dr Lo Ying-Ru Jacqueline, WHO Representative to Malaysia, Brunei Darussalam and Singapore.
She added that the webinar is an excellent opportunity for communication professionals to enrich their reporting skills and learn how to correct misconceptions, using facts and empathy.
"Media practitioners should be mindful of negative expressions that can create or exacerbate xenophobia and hate speech. In times of crisis, it is imperative to focus on upholding ethical reporting standards, humanity and dignity of marginalised and vulnerable groups," said Philomena Gnanapragasam, AIBD Director.
The webinar series ended with an engaging forum moderated by IOM on COVID-19 and solution driven media reporting on migration related issues. The forum featured industry experts and award-winning journalists including Ajibola Abayomi, President, Journalists International Forum for Migration based in Nigeria, Maria Leonida, Director of Karpos, Centre of Education & Intercultural Communication in Athens, Greece and Shafiq Ahmad Editor-In-Charge of Asia-Pacific Desk for Anadolu Agency Turkey.
In her closing remarks, Kendra Rinas, Chief of Mission, IOM Malaysia thanked the participants for the active contribution. "It is absolutely essential to strengthen our societies against hate and xenophobia and we are grateful for the media for helping to speak about inclusiveness so we can all overcome COVID's health and economic impacts."
For more information, please contact Malarvili Meganathan and Wong Chun Ting at cwong@iom.int
UN entities involved in this initiative
IOM
International Organization for Migration