Solidarity through Storytelling: IOM Amplifies Migrant and Refugee Voices in Fight against Xenophobia and Misinformation
One Minute Video Competition to promote solidarity and address xenophobia, stigma and misinformation surrounding migrants and refugees in Malaysia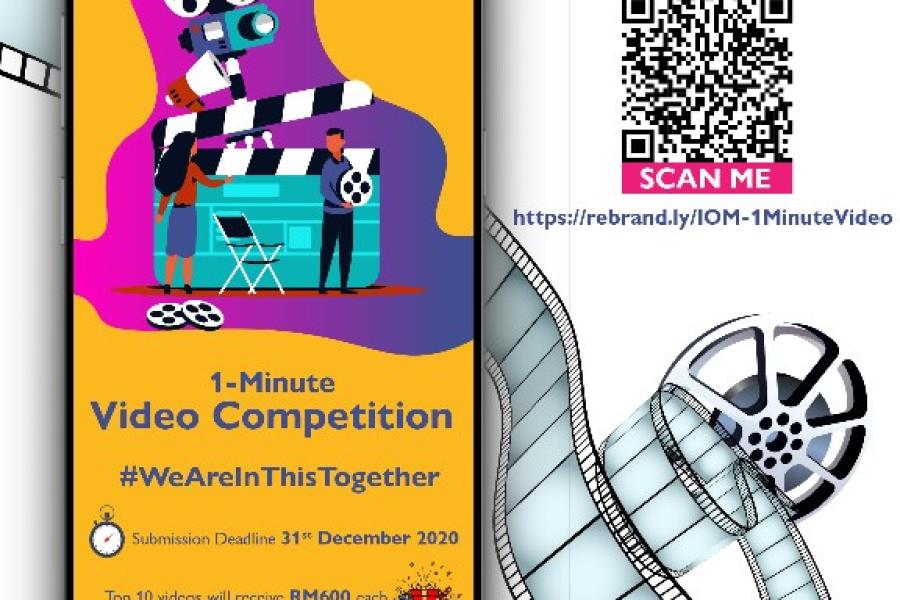 Stories of migrants and refugees rising above adversity against the backdrop of systemic inequality took centre stage at a recent awards ceremony organised by the International Organization for Migration (IOM) to mark the conclusion of its One Minute Video Competition to promote solidarity and address xenophobia, stigma and misinformation surrounding migrants and refugees in Malaysia.
The IOM-run competition, funded by the European Civil Protection and Humanitarian Aid Operations (ECHO), ran from 28 October 2020 to 31 December 2020, receiving 26 entries from a diverse pool of participants, which were then reviewed by a selection panel consisting of the United Nations Communications Group (UNCG), Risk Communication and Community Engagement (RCCE) working group, ECHO project partners, and representatives from IOM missions in Malaysia, Indonesia, and Thailand.
Winners were selected based on creativity, accuracy of information and stories focused on promoting positive public perception. The virtual award ceremony on 29 January 2021, featured all top 10 winning videos (see links at the end of this note).
The competition was conceived at a time when COVID-19 has magnified pre-existing socio-economic inequalities, which put migrants and refugees at a greater risk of racist and xenophobic incidents, such as verbal and physical assaults, social exclusion, denial of access to goods and services, discriminatory movement restrictions and quarantine policies.
According to the World Health Organization (WHO), stigma can drive people to hide their illness to avoid discrimination, preventing them from seeking immediate health care which is not only in their own best interests but also of the wider community.
Too often, the pandemic is used as a pretext to scapegoat migrants, refugees and those living on the fringes of society, blaming them for the spread of the virus. Despite this, local societies, grassroot community leaders, activists, volunteers and artists have responded to this pandemic with a strong sense cooperation and solidarity.
"This great initiative by young filmmakers to address the crisis with dedication, inclusion and justice gives us great hope. Now more than ever, the safety of our society as a whole depends on the effective protection of the most vulnerable," said Kendra Rinas, IOM Chief of Mission in Malaysia.
"The video competition has provided a platform for people, regardless of age, nationality, ethnicity or legal status to share their stories of hope, distress, resilience and courage. This is an integral part of the migration experience," said Wong Chun Ting, National Project Officer, IOM Malaysia.
He added that as the pandemic had seen an alarming increase in anti-migrant rhetoric, xenophobia, and misinformation., there was an urgent need to explore new ways to counter this backlash to promote more positive narratives.
Misinformation is putting lives at risk. News from unverified resources, fake news on social media, manipulated images and videos of migrants are extremely harmful to the physical and mental well-being of migrant communities. According to the Institute of Strategic and International Studies Malaysia, the intentional creation of false information has fuelled a public outrage targeted at the marginalized communities.
"Art goes beyond borders. It has the power to change the current public discourse surrounding migrants and refugees," said Saleh Sepas, the Kabul-born director, writer and refugee, who is passionate about socio-political issues, and describes art as a powerful medium to bridge the cultural distance between diverse communities.
Narrated in Malay by a refugee, Sepas' short film Cuci Ceria, highlights a community project that empowers women. Under the project, thousands of recycled cotton-fabric face masks made by refugee and local women from low-income groups were distributed to detention centres, community centres, migrant workers, refugees and marginalised communities.
The Cuci-Ceria project is a collaboration between Geutanyoe Foundation and Rohingya Kasih Centre, non-profit organisations focused on protecting vulnerable communities.
Inspired by a true story, Amna Shah's short film, The Untold Story of Every Refugee is a somber reflection on a stereotype-ridden society that grapples with pervasive discrimination. In the film, a young refugee, Sarah is forced to flee her home country due to religious persecution. Sarah struggles to find a home to rent amid xenophobic backlash, but eventually secures a job and provides a better life for her family.
Shah, a refugee living in Malaysia since 2014 said twinning the competition has given her the drive to continue using film as a medium to raise awareness and shatter negative stereotypes.  "The struggles faced by the refugee community in the country is truly heart-breaking. However, even in the darkest of times, there is always hope," said Shah.
All the top 10 videos can be viewed below:
Shahidah Mohd Shadik – Keyakinan
Kevin Bathman – Facebook Comments
Fatemeh Vahedi – Sneezing Funny
Farah Shah - Refugees - A Blessing in Disguise
Chris Lwin - Youth Volunteer Group
Benjamin Kong - 1 min Refugee Video Project
Amna Shah - The Untold Story of Every Refugee
For more information, please contact at IOM Malaysia
Wong Chun Ting, National Project Officer (Public Health and Migration)  cwong@iom.int
UN entities involved in this initiative
IOM
International Organization for Migration