Human Rights Day 2020 Virtual Forum : "Recover Better" - Stand Up For Human Rights
Over 300 participants from Government, UN agencies, CSO and Private Sector participated in the Human Rights Day 2020 Virtual Forum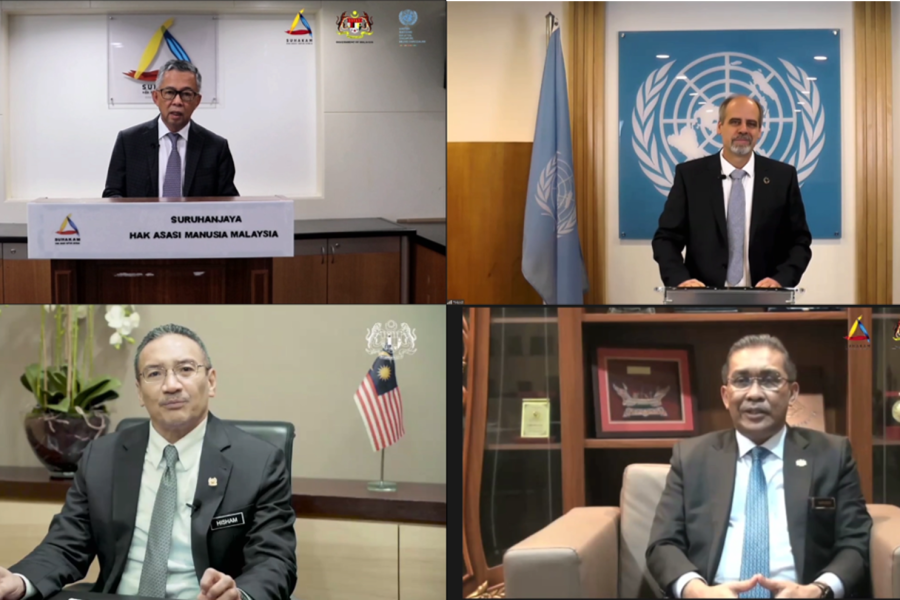 Over 300 participants from Government, UN agencies, CSO and Private Sector participated in the Human Rights Day 2020 Virtual Forum, jointly organized by the United Nations in Malaysia, Ministry of Foreign Affairs (MoFA), Legal Affairs Division (BHEUU), Prime Minister's Department and the Human Rights Commission of Malaysia (SUHAKAM).
The forum was officiated by YB Dato' Seri Hishammuddin Hussein, Minister of Foreign Affairs together with Mr. Stefan Priesner, United Nations Resident Coordinator for Malaysia, Singapore and Brunei Darussalam and YBhg. Tan Sri Othman Hashim, Chairman, SUHAKAM 2019-2022.
YB Dato' Takiyuddin B Hassan, Parliament and Law Minister in Prime Minister's Department closed the half-day forum.
This year's theme "Recover Better" is apt as the world is facing the dire impact of Covid-19. Discussions at this year's Forum focussed on the various challenges faced by different actors in the face of Covid-19, weigh the dimensions of human rights vs recovery and preserving life, as well as explore best practices in moving ahead and rebuilding together.
During his officiating speech, YB Dato' Seri Hishammuddin announced Malaysia's bid for a seat at the Human Rights Council for 2022 – 2024, "Malaysia is proud to present our candidature to the Human Rights Council for the 2022-2024 term. The Human Rights Council embodies the spirit of multilateralism, which Malaysia continues to advocate and as a member of the HRC, Malaysia will work closely with all actors to drive progress on human rights at home and globally."
Stefan Priesner outlined the opportunities that the pandemic has provided to bring the SDGs back on track, "The culmination of this integration of development and human rights are the SDGs – SDGs include human rights as their DNA. This is why SDGs need to be linked to human rights to fully achieve Agenda 2030. Like other major crises, COVID presents us with a huge opportunity to change outdated, unfair and inefficient policies. Human rights must be at the centre of these policies, since this will ensure that people are always at the centre of development.
While highlighting human rights issues in Malaysia during the pandemic, YBhg. Tan Sri Othman Hashim added that "In light of the Government's on-going efforts to tame the pandemic,  SUHAKAM had continued to monitor the situation, drawing attention to and engaging with authorities to protect non-derogable human rights, whilst ensuring other rights were not taken for granted or unreasonably trampled  under the guise of the pandemic response." 
In his closing remarks, YB Dato' Takiyuddin said, "The government has been managing this pandemic with a bird's eye view of all those affected and how problems can be mitigated.  Whilst we are handling the situation, we also know that the current predicament may remain longger than anticipated. We need to make adjustments and adapt to the new normal of living, working and doing business. However, this new normal should not compromising human rights and rights to a decent life."
Consisting of two sessions titled COVID-19 and Human Rights and Recover Better, Rebuild Together, the Forum featured notable moderators and speakers such as:
YBhg. Dato' Mah Weng Kwai, Commissioner, SUHAKAM
YBhg. Dato' Dr. Hartini Zainudin, Founder Yayasan Chow Kit & Vice President of Voice of the Children
Dr. Lo Ying-Ru, Head of Mission and WHO Representative to Malaysia, Brunei Darussalam and Singapore
Dr. Asiah binti Ayob, Deputy Director of Disease Control Division (Surveillance), Ministry of Health Malaysia
YBhg. Prof. Dato' Dr. Noor Aziah Binti Mohd Awal Children's Commissioner, SUHAKAM
Mr. Kolony Anak Gunting, Deputy Undersecretary, Policy & strategic Planning Division (Community Development Policy), Ministry of Women, Family and Community Development
Ms. Shivani Verma, Human Rights Officer, OHCHR South East Asia Regional Office
Ms. Allison Low, President, Protem Petaling Jaya Child Council (PPJCC) and President, Child Consultative Council under Office of Children's Commissioner, SUHAKAM,
Mr. Jufitri Joha, President Majlis Belia Malaysia
UN entities involved in this initiative
RCO
United Nations Resident Coordinator Office
Goals we are supporting through this initiative