Press Release
UNDP Malaysia contributes $202,000 to Malaysia's COVID-19 Fund
17 July 2020
The United Nations Development Programme (UNDP) in Malaysia contributed $202,000 to the Malaysian National Disaster Management Agency's (NADMA) COVID-19 Fund. The funds were channelled towards ensuring that selected quarantine and treatment centers were fully equipped for efficient operations. This is in line with UNDP's Offer of strengthening public health response by reducing barriers to quarantine services, especially targeting vulnerable communities.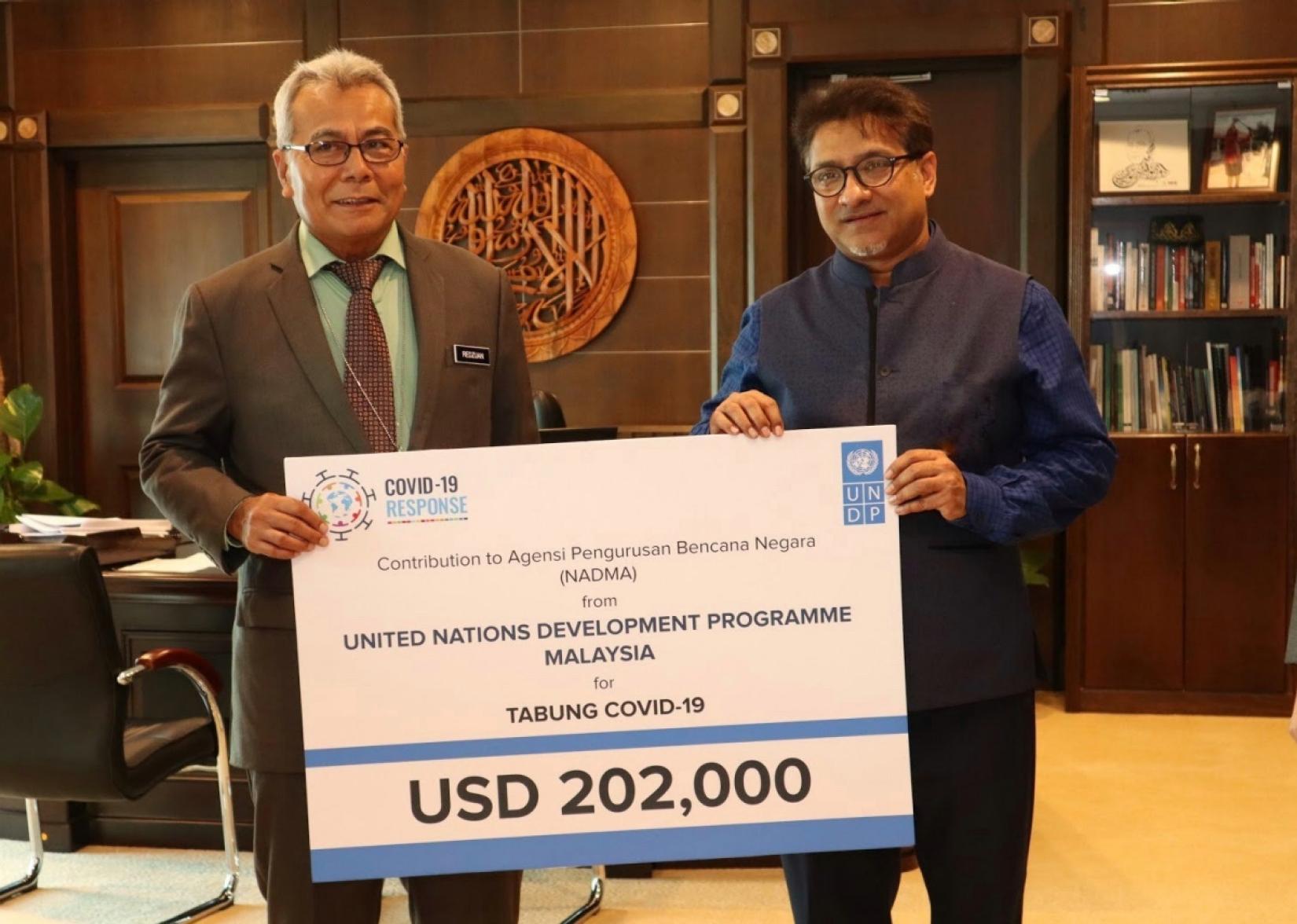 The cheque was presented by Niloy Banerjee, UNDP Resident Representative for Malaysia, Singapore, and Brunei Darussalam to the Minister in the Prime Minister's Department (Special Functions), Datuk Seri Mohd Redzuan Md Yusof alongside Dato' Mohtar bin Mohd Abd Rahman, Director General of NADMA at the Perdana Putra Complex in Putrajaya.
Niloy congratulated the Government of Malaysia, NADMA, and especially the health sector for its success in responding and mitigating the transmissions of COVID-19 in the country with 8,538 numbers of fully recovered patients as at 16 July.
"UNDP Malaysia stands firmly with the Government of Malaysia and its people during this critical time. The COVID-19 pandemic is much more than a health crisis and requires international cooperation and solidarity. We need to come together as a global community to eliminate the virus and work towards the long-term recovery from the crisis, and prepare for tackling future challenges," said Niloy Banerjee.
Building on UNDP's long working relationship with NADMA on disaster preparedness, UNDP will also be supporting multi-sectoral approaches across government, through a strategic analysis of Malaysia's response to COVID-19 and the distillation of lessons for emergency response and preparedness planning. The specific output of this undertaking is a General Observers Report expected to be released in October 2020.
UNDP Malaysia's Response to COVID-19
In line with the UNDP Strategic Plan 2018 - 2020 and UNDP's mission of eradicating poverty, reducing inequalities, and building resilience to crisis and shocks, UNDP Malaysia is supporting the country to urgently and effectively achieve the recovery from COVID-19, safeguarding progress on the SDGs, and delivering on the pledge to leave no one behind.
As the UN's lead agency on socio-economic impact and recovery, UNDP interventions are part of the overall UN COVID-19 response plan in Malaysia. Tackling COVID-19 and its impacts will require partners who can work across systems and sectors and in contexts that are both complex and uncertain.
To date, UNDP Malaysia has carried out the Rapid Assessment on Household Income Survey (RaHIS) to understand the impact of COVID-19 on Malaysians' household income. Building on the nationwide survey, UNDP also worked with the Langkawi Development Authority (LADA), and Iskandar Regional Development Authority in providing technical support for a tailormade survey specifically for the residents in Langkawi and state of Johor. UNDP Malaysia has also successfully conducted the Nationwide Telecommuting Survey to understand the experience of Malaysians working from home during the Movement Control Order (MCO) in order to identify the gaps, opportunities and needs to improve disaster readiness for ordinary working operations in the Malaysian context. The findings of these surveys are expected to be released in August 2020. In addition to this, UNDP also supported the development of the Jejak Johor tracing app which was launched earlier in May.
Building on ongoing engagement of policy advisory support to the Government, UNDP is also developing macro and micro levels of economic analysis to assess socio-economic impacts of COVID-19 to national development priorities, vulnerable groups and SME/MSMEs. The impact assessment analyses will be done with a view to develop policy recommendations towards creating a more resilient and responsive system post COVID-19 and building continuity between immediate measures and longer-term recovery. This offer will leverage on various analytical tools and intelligence gathering platforms, to support formulation of policies for a more sustainable recovery.
In areas of an inclusive and integrated crisis management and multi-sectoral response and advisory services, UNDP collaborated with the Malaysian Plastics Manufacturers Association (MPMA) to increase local production of medical supplies by industrial repurposing of resources and factory operations within several industries. To ensure effective and efficient delivery of social and financial assistance to vulnerable groups, UNDP in collaboration with sister agency, the United Nations Capital Development Fund (UNCDF) has undertaken an assessment on feasibility of existing and potential cash assistance and e-commerce platforms in support of efforts to build back better and foster community resilience in the long term, especially among rural and vulnerable groups. A pilot will be implemented in Sabah based on assessment finding and results will be presented as a case study for policy recommendation and further scale up in other rural communities in Sabah and nationwide.
In the longer term, UNDP will continue to look at innovative ways to support Malaysia to better prevent and manage such crises and ensure that the country makes full use of the lessons learned from this crisis to build back better.
Click here for more information on UNDP Malaysia's COVID-19 response.
UN entities involved in this initiative
UNDP
United Nations Development Programme