Speech
Closing Speech: International Women's Day 2022 Virtual Forum
The theme of this year's International Women's Day is "Gender equality today for a sustainable tomorrow"
Climate change is reconfiguring our habitats, making prediction and planning more challenging, and agile approaches are imperative.
Yesterday's flood was another humbling reminder, and we send our thoughts to all who struggle in its aftermaths.
Yet, people's needs remain unchanged, and ever more inclusive solutions are needed to reach our Sustainable Development Goals, on a journey presented with ever new twists and turns.
Today asks for Gender Equality for a Sustainable Tomorrow.
Selamat petang and salam sejahtera
Excellencies
Yang Berbahagia Tan Sri Jemilah Mahmood
Executive Director of Sunway Centre for Planetary Health,
Pro-chancellor of Heriot-Watt University Malaysia
Ms. Karima El Korri
UN Resident Coordinator for Malaysia, Singapore and Brunei Darussalam
Distinguished speakers, members of the media, colleagues from the UN, ladies and gentlemen, and all following this event.
Today we have been deeply inspired by our panelists and role models, leading the charge calling for Gender Equality Today for a Sustainable Tomorrow.
The forum today has clearly highlighted that while changing climate affects everyone, it impacts the world's poorest and those in vulnerable situations ever more so, and particularly women.
Women and girls are often the last to eat or be rescued; they face greater health and safety risks as water and sanitation systems become compromised; and they take on increased domestic and care work to mitigate and cope with stressors, and the consequences of dwindling resources.
While climate change is everyone's business, women bear the steepest costs, and yet their voices need to be heard, and needs reflected, in policy agendas and investment decisions.
Our afternoon together has concluded loud and clear: We need climate actions by, and for, women.
While climate changes general conditions, needs remain unchanged. For example, when looking at women's and girls reproductive health and rights; irrespective of the natural challenges, women will continue to give birth, menstruations will continue, and these will become more difficult to manage, under erratic climatic conditions.
In addition, new challenges emerge as women are often primary care givers, and have to find ways of providing care under fluid circumstances. Mental and psychosocial tolls are mounting. Paradoxically, under the stressful conditions, gender-based violence does not take a rest; and instead we learn that violence often increases under these stresses, while the remedies and support may be even harder to access, steepening women's vulnerabilities.
Studies have shown that when people are displaced, women orient unfamiliar territory in looking for resources to run households, facing increased risk of gender-based violence. Cases of violence spiked after cyclones and typhoons in the Asia-Pacific region, as well as other regions. Malaysia also saw cases of violence among the Penan women and girls in Sarawak, by timber workers as a result of deforestation process, that left them with limited and risky travel options.
Hardships, compounded by weather extremes, can destroy livelihoods and exacerbate poverty. To cope, some families cope by marrying off young daughters, and we have seen increases in child marriage in countries affected by climate disasters; a risk to avoid at all costs.
The study by ARROW and Penita reinforces the need to link climate response to the needs of population taking into account their socio-economic circumstances – the different needs for those in different locations, regions, generations, age classes, income groups, occupations and genders – poorer states in Malaysia are more vulnerable to climate related circumstances. Persistent structural inequalities pose greater, and exacerbate, risks to health care, food, clean water and other resources which are crucial to the enjoyment of one's sexual and reproductive health and rights and gender equality.
With Malaysia seeing increases in rainfall during the wet period and longer drought during the dry period, and with increasing urban population as well as inland farming communities and coastal areas, research has found that women suffered the most from the floods, especially the disabled, the pregnant, nursing mothers and single mothers.
There is a need for tailored response to women's needs – for example to plan on how to address pregnant mothers who are expecting child delivery after floods when roads are cut off due to water rise, as well as the need to consult these women to mitigate the effects of floods also in Malaysia.
A long and strenuous journey for example to health clinic in rural areas of Sabah and Sarawak poses increased challenge to access to proper nutrition, clean water; to ensure maternal, child and reproductive health are met.
Climate crises also impacts women's entrepreneurial-based income, as many livelihoods as well as food security that directly depend on forest ecosystems. Investment in green technologies also needs to redress women's needs, and benefit women.
Women and girls living in emergencies around the world are robbed of the ability to take charge of their bodies, lives and futures. Sexual and reproductive health services must not be an afterthought in emergencies. For the woman about to give birth or the adolescent girl subjected to sexual abuse, these services are as vital as food, water and shelter, and can mean the difference between life and death.
As I am about to close circle on today's global theme "Gender Equality Today for a Sustainable Tomorrow", we recall that in as much that the stressors of climate change can trouble the path towards sustainable development and requiring our new and innovative solutions; this International Women's Day, on 8 March, we also remember that peaceful co-existence is an important condition to solve the already large humanitarian challenges. Today we also send our thoughts to women and girls who are disproportionately affected in humanitarian crises from around the world. In all crises, the most vulnerable, disenfranchised and disempowered suffer the most.
Ladies and gentlemen,
Today we also celebrate women's resilience. We have also seen how women play a critical role in supporting female peers cope and navigate the changes they are confronted with, addressing the unique needs of women, through their participation and leadership. Women possess unique knowledge and experiences; women's brave voices need to be heard at the decision-making tables, influence guiding policies, and women's needs should orient investment decisions.
This afternoon and the evidence leading up to it, has convincingly demonstrated that disaster preparedness and response needs to integrate pronouncedly a gender perspective, inclusive of all. This will maximize community resilience, and help bounce better back from shocks with minimum disruptions, perhaps even ride the wave of innovation, towards chartering the course towards the SDGs.
Today's deliberations has conclusively showed that we must listen to women's voices and invest in women's leadership and resilience. Women bring communities together; women lead efforts to mitigate and adapt to climate change; and women can drive reconciliation and ensure long-lasting peace, and more prosperous countries.
It has also showed that due to its complexity and wide ranging scope, collaboration. Cross-sectoral collaboration among ministries – between Ministry of Environment and Water, Ministry of Health and Ministry of Women, Family and Community Development - in legal, policy and action framework development are needed. In the same way, collaboration needs to be activated among all solution providers.
Lastly, Ladies and gentlemen, in concluding this enriching and inspiring afternoon
It is our hope that Malaysia will embrace the call to action, recent one being last year at COP22; to adopt gender-responsive climate policies, to develop a gender action plan in order to support the implementation of gender-related decisions and mandates under the UNFCCC process, including detailing priority areas and details for their implementation and execution, and accountability in their completion; as well as strengthening and supporting the voices of women in climate action as Agents of Change, in households and in communities. We stand ready to provide any support that we can to this process.
In closing our forum for today, I wish to again take this opportunity to sincerely thank our distinguished speakers, the support from the Ministry of Environment and Water, our organizing committee and your kind participation in today's forum.
Malaysia is a tremendously beautiful country! We look forward to an even greener, sustainable, equitable tomorrow for Malaysia.
Selamat petang and wishing you a restful evening. Thank you.
Rewatch the Forum here
Speech by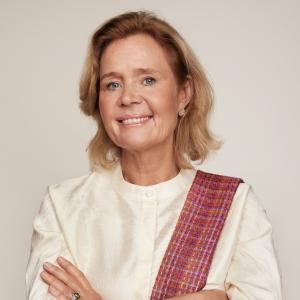 Asa Torkelsson
UNFPA
Country Representative Malaysia and Country Director Thailand
UN entities involved in this initiative
RCO
United Nations Resident Coordinator Office